Professional Hyundai Brake Service
Brake Service at Williams Hyundai in Lansing, MI
The brakes of your Hyundai are among its most crucial components, especially when it comes to safety. Every automaker recognizes the importance of a responsive braking system to provide immediate stopping power and preventing collisions. However, like every part on your vehicle, your brakes will require replacement and repair every so often, though different parts will wear down before others. Let us go over with you the importance of routine brake service, when some components come due for service, and where you can go to get your Hyundai repaired.
You will find our Hyundai service center here on E Saginaw Blvd in Lansing and less than an hour outside of Flint, MI.
How to Tell When Your Brakes Need to be Serviced
In everyday driving, the antilock braking system of your Hyundai should provide the most rapid and responsive stopping power as soon as your foot hits that brake pedal when driving in Ann Arbor. The brakes of your Hyundai are comprised of an intricate series of components, beginning with the master cylinder which activates the second you press the pedal. The master cylinder activates brake pumps which deliver brake fluid from a reservoir under the hood to the brake pads themselves, using fluid delivery lines. The fluid is then applied to the pads while the rotors and calipers apply friction to the pads to slow down or stop the vehicle.
How Do You Know Your Brakes Need Service? Typically, you should at least have your brakes inspected every 10-15,000 miles or so. Certain components will come due for service sooner than others:
Brake fluid should be inspected frequently and topped off as needed. If you do not drive as frequently and do not need to change out the fluid, it should be replaced by every two years/30,000 miles (whichever comes first)
Brake pads will likely need to be replaced between every 10,000-20,000 miles
Brake rotors will need replacement between 50,000-70,000 miles
The brake master cylinder can wear out around different intervals, depending on your commute and daily driving needs. Ultimately, you will know it might be faulty through the brake pedal, whether the car requires more effort to stop or it feels soft/spongy to touch.
Signs Your Brakes Need Immediate Repair
"Brake" or "ABS" dashboard lights appear
Brake pedal feels soft/spongy
Screeching/squealing/knocking sounds from brake
Stopping vehicle takes more effort
Leaking brake fluid/fluid depleting faster than normal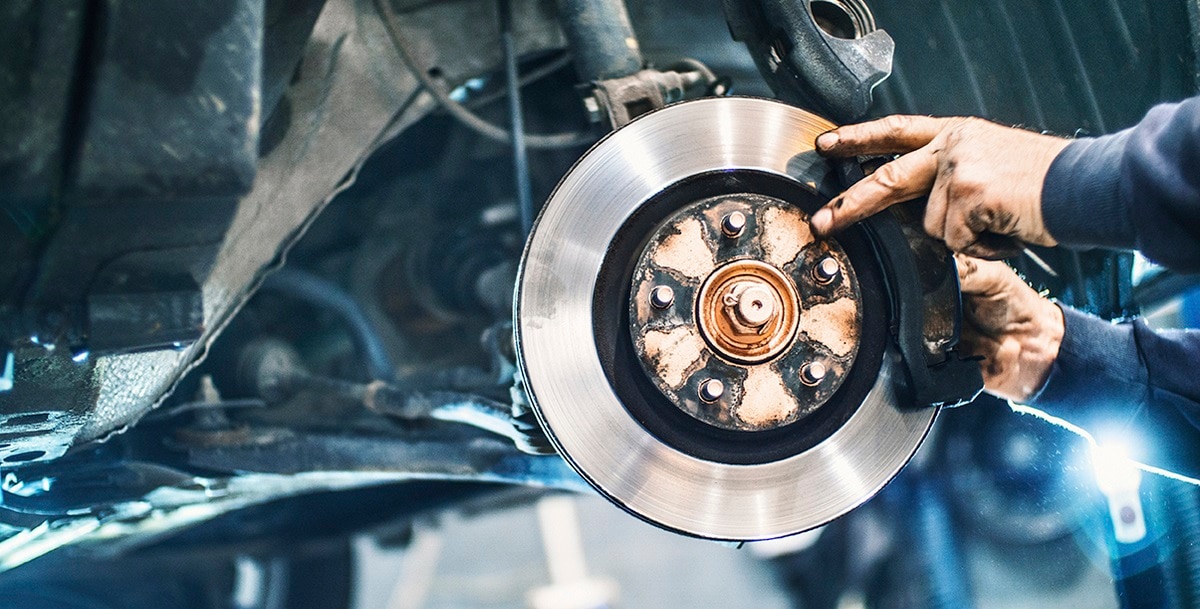 The Right Service in the Right Place
Whether you need new brake rotors, or your fluid reservoir just needs a top-off, Williams Hyundai is one of the best places for Hyundai drivers to take their car for service. Each of our technicians enjoy specialized experience in the Hyundai brand and only use genuine Hyundai parts straight from the manufacturer. We also service a variety of other makes and models, so even if you purchased an off-brand used car from us, you can still bring it in for brake service. Our Hyundai service department near Dewitt, MI often has a selection of off-brand brake parts from competing OEMs.
Save on Hyundai Brake Service
We encourage customers near East Lansing, MI to learn ore about our latest service coupons. Each month, we offer great ways to save on repairs and maintenance like Hyundai brake service. If your Hyundai is due for any other services, you can see what other deals await to see how much you can save. If you do not see the coupon you need, be sure to check back in next month.
Schedule a Service Appointment Today
When it comes to brake service, you should always trust in certified Hyundai technicians for the expertise and genuine OEM parts you need to make repairs last. We invite you to schedule a service appointment today by contacting our dealership online or giving us a call. Schedule a brake inspection today here at Williams Hyundai in Lansing, MI. We are conveniently less than 40 minutes outside of Owosso, MI. See you soon!